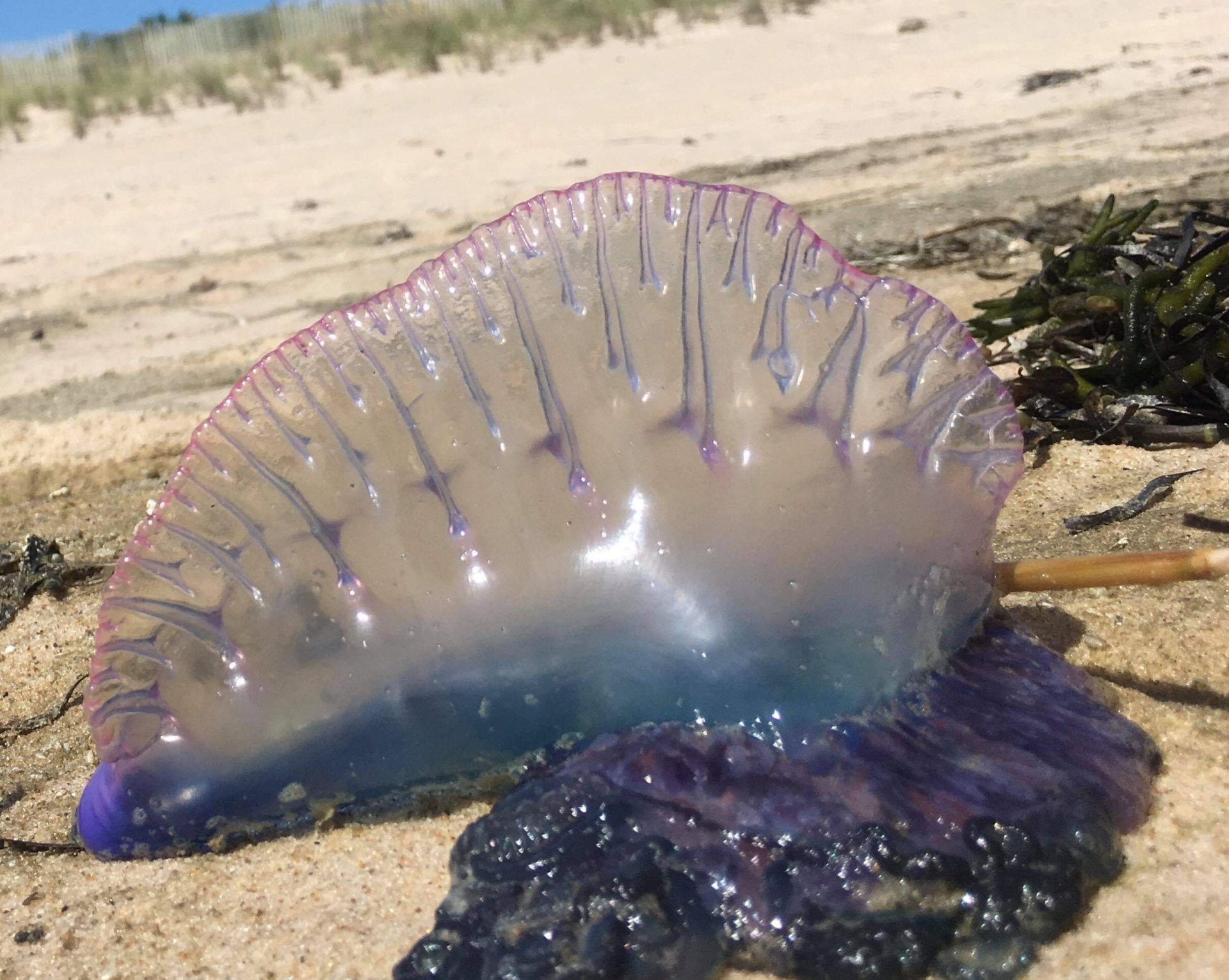 If you're headed to the beach, not only watch where you swim, but watch where you step. Portuguese man-of-wars have once again washed up on the shore.
The venomous siphonophore, a group related to jellyfish, are mostly found in tropical and subtropical seas, but are washing up on local ocean beaches, most likely pushed up the coast in the warm water beneath Hurricane Paulette off the coast, according to John Ryan Jr., the chief of the East Hampton Town lifeguards. "We normally get them once a summer when the tropical storms push up the coast," he said.
According to National Oceanic and Atmospheric Administration, they can sometimes float in legions of 1,000 or more.
On Sunday, beach-goers reported seeing them sprinkled along the shoreline. Patty Collins Sales said she walked from Wainscott to Sagg Main in Sagaponack, "and they were everywhere," every few yards she said. At first she thought they were bottles.
Portuguese man-of-war got its name because it resembles an 18th-century Portuguese warship under full sail. Easily recognized by its balloon-like float, its long-reaching tentacles contain stinging nematocysts, microscopic capsules loaded with coiled, barbed tubes that can be painful to humans and deadly to small fish and crustaceans.
Even out of the water, beach-goers need to be on the lookout because if you step on them, or if a child, attracted to its pretty blue, violet or pink glassy color, tries to pick one up, it will pack a painful wallop.
"We had a kid pop one today and report  to the lifeguard stand with an  irritation to her face and hands," John Ryan Jr., the chief of the lifeguards said on Sunday. "People should stay clear of them. Their tentacles are clear and difficult to see. Stings are extremely painful," he said.
Research shows that vinegar, followed by warm water is the way to treat the stings, Ryan added—just in case.
Have you seen one? Send us a photo and tell us where.