The Palm Beach season is in full swing, and there are plenty of deals and dolls in every room across the island. One could argue that there are more philanthropic activities per square mile in Palm Beach than anywhere else in the world. The list of nightly charitable events can certainly be daunting, but no one ever said keeping up with the PYTs was easy.
On that beat, I am happy to report that Palm Beach resident Bill Gates is unsurprisingly the top donor for 2022. In December Gates pledged a further $20 billion to The Bill & Melinda Gates Foundation, providing the foundation with a new infusion of cash. He's not the only billionaire that charitable organizations are chasing. It seems the Preservation Foundation of Palm Beach neglected to offer any single tickets to their annual Dinner Dance at all, moving instead to sell only full tables for upwards of $20,000.
Real estate also continues to climb. Rumor has it that the Aman Group has purchased two aging condominium complexes on the south end of the island and plan a very expensive (and exciting!) condominium development. Both homes and condominiums continue to break records.
Robert Kraft, owner of the New England Patriots, purchased a $24 million penthouse at the oceanfront Leverett House building, and, of course, fashion designer Tom Ford picked up a gorgeous home on Jungle Road for $51 million that has everyone chatting. I for one can't wait to see Ford show up at Green's Pharmacy for breakfast!
As is always the case around this tony town, some well-known faces have been spotted. Bitsy Marshman was seen chatting away with Rod Stewart at the local Starbucks last month.
Jon Bon Jovi was partying it up at the Sailfish Club for the annual Hanley Foundation Palm Beach Dinner on January 19.
Famous fashion super models, actresses and activists Veronica Webb and Irina Pantaeva were chatting over a sumptuous lunch at Sant Ambroeus recently, and Pantaeva made it out to the launch of the uber chic Palm Beach Atelier at the Paramount Theatre Building on January 12.
From fashion models to couture — everyone has been mad for Dolce this month in Palm Beach. The Colony Hotel is playing host this season, and the fashion power house showcased their Alta Moda Couture collection for 2023 at an exclusive dinner party for 80 select clients on January 20.
Among the group was Lizzi Bickford, Courtney Schlesinger, Valerie and Harry Cooper, Harrison Morgan, Giovanni Onorato, and Stefano Galli, Dolce & Gabbana director of retail special events who was also celebrating his birthday. Men's and women's custom clothing mixed perfectly with high jewelry that sparkled in the cool night air in the gardens by the pool. The evening concluded with dancing into the wee hours at the uber exclusive Carriage House.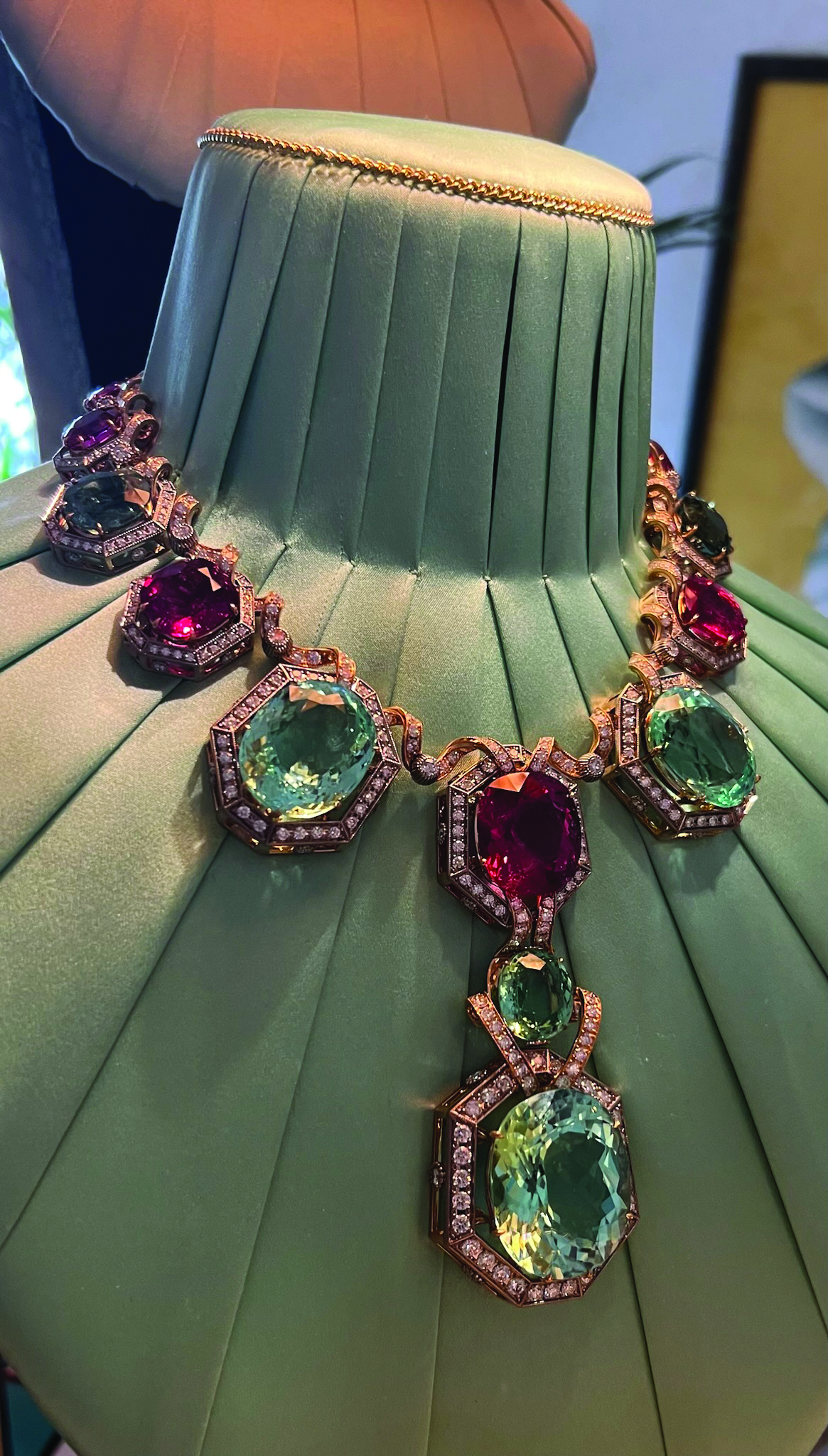 Sadly, fashionistas will have to wait a while longer to shop at the new Gucci store to open on Worth Avenue. They are moving to the old Brooks Brothers location up the road, and rumor has it that construction will not be completed until late February.
The opening of the Palm Beach Opera season was a big hit with Puccini's Madama Butterfly. I have been an opera attendee since I could walk into the Met, and this production had it all — with glorious costumes, a set that really drew you in and melodious voices that brought this guy to tears. I can hardly wait for Cosi Fan Tutte to be performed at the end of February.
Now for those of you who have trouble getting reservations to the many Palm Beach hot spots, never fear, there are a few new restaurants coming next season! In the meantime, the clubby Restaurant 44, a bit of a local secret located in the Palm Beach Towers is still serving up the best homemade chicken pot pie on Tuesday nights. A spot you can certainly walk into without much fuss.
Guy Clark is a top Palm Beach realtor and owner of his own interior design firm, where he specializes in designing luxurious, individualized residential interiors.