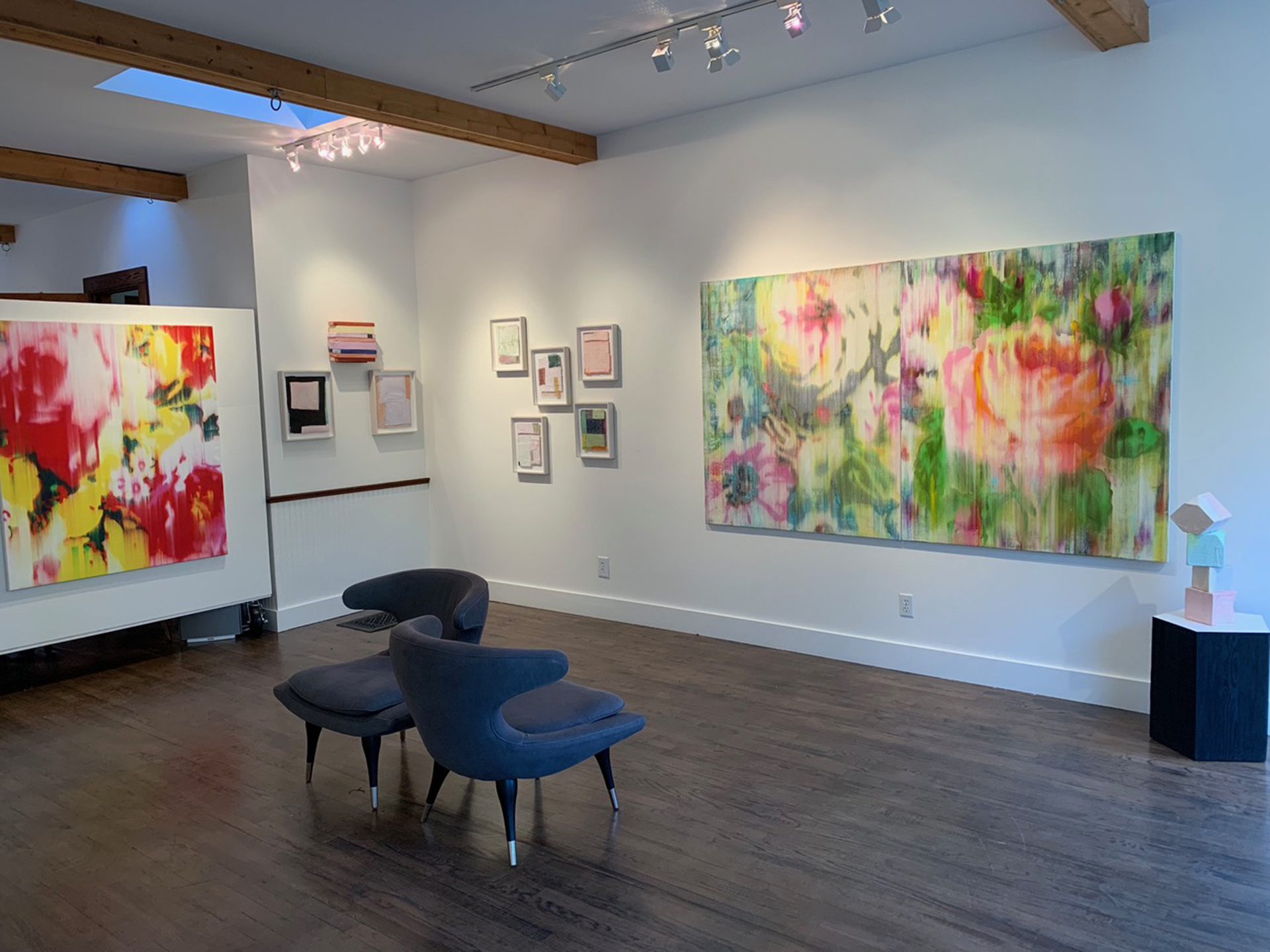 Thanksgiving Saturday
Saturday, November 24, 6 to 8 PM
Janet Lehr Fine Arts, East Hampton
Janet Lehr Fine Arts in East Hampton presents "Thanksgiving Saturday Stocking Stuffer." Enjoy a night of art and entertainment on Saturday, November, 24, from 6 to 8 PM. Refreshments and light bites will be accompanied by art and conversation.
Get With The Program
Opening: Saturday, November 24, 6 to 8 PM
Roman Fine Art, East Hampton
Roman Fine Art in East Hampton presents "Get With The Program 2018," the third edition of its annual holiday group exhibition. The exhibit will feature painting, photography, and mixed media works by eleven contemporary artists working in a variety of media and genres. Artists include Emma Balou, Christina Creutz, Tim Conlon, Ray Caesar, Kelly Franké, Grant Haffner, Lizzie Gill, Elektra KB, Ciara Rafferty, SWOON, and Stephen Wilson. The exhibit opens with a public reception for the artists Saturday, November 24, from 6 to 8 PM.
Romany Kramoris Gallery
Opening: Saturday, November 24, 3 to 5 PM
Romany Kramoris Gallery, Sag Harbor
Romany Kramoris Gallery in Sag Harbor presents a group art show featuring 30 plus local artists with small and affordable art and fine crafts.
Participating artists include Nancy Achenbach, Lianne Alcon, Herbert August, Olivia August, Adriana Barone, Ann Barzola, Eve Behar, Lois Bender, Joyce Brian, Lauren Chenault, Sue & Al Daniels, Christopher Engel, Patricia Feiwel, Suzzanne Fokine, Rick Gold, Barbara Groot, Barbara Hadden, Ruby Jackson, Mary Jaffe, Adrienne Kitaeff, Romany Kramoris, Peter Lipman-Wulf, Ghilia Lipman-Wulf, Mary Milne, Alan Nevins, Maria Orlova, Isabel Pavao, Heidi Rain Oleszczuk, Christina Schlesinger, Veronica Mezzina, and Deby Zum.
The exhibit is on display from November 23 through January 13. An opening reception will be held Saturday, November 24, from 3 to 5 PM.
Sara Nightingale Gallery
Reception: Friday, November 23, 5 to 7 PM
Sara Nightingale Gallery, Sag Harbor
Sara Nightingale Gallery in Sag Harbor presents "I'll let you be in my dreams if I can be in yours," new and recent work by Scott Bluedorn, Stephanie Brody-Lederman, Rossa Cole, Erica-Lynn Huberty, Yuliya Lanina, Jennifer Present, and George Singer. The Exhibition runs through November 27, with a reception on Friday, November 23, from 5 to 7 PM.
Chaos Theory Gallery
Reception: Saturday, November 24, 1 to 5 PM
Chaos Theory Gallery, Sag Harbor
View the works of Max Siebel and Amy Wickersham at Chaos Theory Gallery in Sag Harbor. A reception will be held on Saturday, November 24, from 1 to 5 PM, with wine and cheese to showcase their work.
Student Art Exhibit
The Lyceum Gallery, Riverhead
The fall Eastern Campus Student Art Exhibit highlighting exceptional work created by Suffolk County Community College students in the applied arts programs on the college's Eastern Campus in Riverhead will be up through December 15.
On display in The Lyceum Gallery are more than 60 student works in a variety of media and sizes created in photography, graphic design, computer art, and interior design courses. The exhibit provides prospective students with a unique opportunity to see the high proficiency attained by students in Suffolk's Eastern Campus art department.
Peconic Bay Impressionists
Old Orchard Farm Store, Orient
Peconic Bay Impressionists and Vintage Long Island Paintings host an art show at Old Orchard Farm Store in Orient. The show features are by Caroline Bell, Julia Wickham, Rachel Beebe, Elliott Alva Brooks, Franklin Glover Brooks, William Steeple Davis, George Hallock, Joseph Beckwith Hartranft, Clara Moore Howard, Whitney Hubbard, Helen Kroeger, Otto Kurth, and Alvert Latham. The show will run through December 1.
Indigenous Histories
Rogers Memorial Library, Southampton
The Madelle Hegeler Semerjian Gallery presents a solo exhibition of old and new works featuring Shinnecock artist and photographer Jeremy Dennis. The "Indigenous Histories: Ubiquitous Inquiries" show will run through November 30 at the Rogers Memorial Library in Southampton. The exhibition will feature a selection from Dennis's work "On This Site," a collection of site-specific indigenous histories represented by landscape photography and "Stories," oral stories and legends represented using portrait digital photography.
Promised Land Remembered
Amagansett Library
"Promised Land Remembered," organized by The Victor D'Amico Institute of Art, has landed at the Amagansett Library and be on display through November 30. The show consists of early tempera on paper paintings by Mabel D'Amico dating circa 1939 through the 1940s, accompanied by a brief historical narrative about Promised Land. Promised Land is illustrated with selected period photographs including Mabel's own found in the D'Amico Archive.
Light Of The Ocean
Southampton Arts Center
Southampton Arts Center presents the exhibit "Light Of The Ocean" by Francisco Alvarado-Juárez. The show will run through the rest of the year, closing on Monday, December 31. The exhibit is a dynamic, site-specific installation by Alvarado-Juárez, a New York-based American artist born in Honduras.
With the help of community volunteers and experts from Cornell Cooperative Extension Marine Program, the two main galleries are turned into a magical marine environment with pathways through sand, seashells, and other organic materials indigenous to the East End, plus video projections of water and marine life, approximately 30 of Alvarardo-Juárez's large-scale acrylic paintings, and thousands of repurposed painted paper bags. The smell of the sea and sounds of whales enveloping the viewer's senses will make for a transformative gallery visit.
White and Black
Malia Mills, East Hampton
folioeast presents "White and Black." The show features art by Shari Abramson, Pamela Dove, Jane Martin, Beth O'Donnell, David Slivka, Aaron Warkov, Mark Webber, and Ruth Wetzel. The show will run through November 25.
Guild Hall
Guild Hall, East Hampton
Guild Hall in East Hampton presents a trio of major one-person shows, which highlight the institution's mission of showcasing artists of the region. Each artist has lived or currently lives on the East End, and every exhibition will focus on the variety of art that has been nurtured and flourished in the area.
The exhibits include Syd Solomon's "Concealed and Revealed" in the Moran Gallery, "Please Send To: Ray Johnson," selections from the permanent collection in the Woodhouse Gallery, and Sara Mejia Kriendler's "In Back of Beyond" in the Spiga Gallery. The shows run through December 16.
HyperPOPism
White Room Gallery, Bridgehampton
The White Room Gallery in Bridgehampton presents "HyperPOPism," featuring pop and graffiti-influenced artwork by four diverse artists: Joss Parker, Joe Currie, Gabriele Vigorelli, and Seek One. The show will run through November 25.
Sheridan Lord
Drawing Room Gallery, East Hampton
The Drawing Room Gallery in East Hampton presents Sheridan Lord's "Sagaponack." The show will run through November 25.